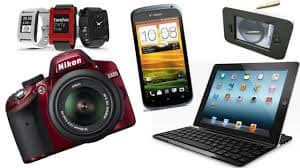 When you think about going green you probably imagine reusable shopping bags and sorting out your recycling, but you'd be surprised just how diverse the world of green tech is. There's a place for green technology in every part of your life, and now we're at a point where green gadgets are affordable and reliable. Plus, now you can be energy efficient in style with these sleek new gadgets.
Must-have energy saving gadgets for any budget
Solar power that fits your lifestyle: Of course you'd love to have solar panels in your home, but if you're like most people it's either too expensive or you just don't have the space to run your home on solar power. Just because you can't have a full photovoltaic system doesn't mean you can't benefit from some solar energy everyday.
There are a ton of solar powered gadgets out there from affordable solar powered phone chargers to backpacks decked out with solar panels so you can have clean energy on the go. You can get a 12 watt solar powered kit for around $100 or less which will power anything from a laptop to multiple cell phones, and it's always reliable– even during a power outage.
 Make your phone battery last longer: If you're going to find more efficient ways to charge your phone, why not find a way to cut down on the time between charging, too? One of the hottest products of 2013 was the Mophie phone case, which extends an iPhone's battery life by up to 80%. Even better, the company just revealed their new case which adds extra storage to your phone as well. Tempted to invest in a brand new case for your mobile phone? If so, you can find a fantastic range of mobile phone accessories on websites like Mobile Mob including cases for most of the latest iPhone models.
 Take shorter showers– for real: Out of all of the common tips on how to go green, taking shorter showers is almost always mentioned, and for good reason. Most showers go through 5 gallons of water per minute, which can really add up if you're the kind of person who zones out in the shower. Taking shorter showers might sound easy, but it's a little harder to do in practice. Luckily, Efergy made a timer that you can keep in your shower which will alarm when it's time to get out, so no more wasting water.
If you want to take even more efficient showers, you can reduce water use by installing a low flow showerhead or saving energy by turning your water heater down five degrees or so (you won't even notice a temperature difference, just it definitely will make a difference in energy use). You can find a lot of low-flow shower head options online, and save money on your purchase with a Wayfair coupon code .
Cut down energy use at the source: You can start saving energy right at the outlet. Meterplug, which was funded by a crowdsourcing campaign, is just one of the many brands of smart outlets and powerstrips that are designed to monitor energy use so you don't have to. With the Meterplug system in particular you can rely on automatic shut off on appliances you aren't using and actually see how much money you're spending to power each device in your home, and all of that information is available right on your smartphone.
Smart thermostats: According to Energystar.gov, the average American household spends over $2,000 a year on their energy bills. If there was something that could help you cut down on those costs, of course you'd invest in it. With a smart thermostat you can do just that and stop wasting energy in your home. Right now there are some great systems out there which let you program and control your thermostat anytime, anywhere by simply connecting the system to your wifi. Now you'll never have to worry that you left the heat on.
Green home appliances don't have to stop at your thermostat, either. Next time you're shopping, look for Energy star appliances to be sure that you're getting an energy efficient appliance that will help you save money on your next energy bill.