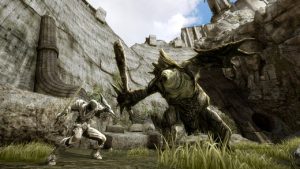 If you are a game freak then you must be well aware of the recent movements in the App hubs. If you're not, here we are all set to let you know them. The game which goes viral in the current times is Infinity Blade 2. Yes, a new well developed game is here for all the iOS users around there. Let's see what's special in this which is attaining many people's interest.
Infinity Blade 2 for iOS
Infinity Blade 2 is the only 3D game available in the iOS which can make you feel thrills all over the time while playing it. This time this game has many more controls and some quality visual effects, just to make it the perfect one. This game has a good graphic design which can make you its fan even if you're just started playing it. You are going to love the way they have designed this app.
For many of the user Infinity Blade 2 game is the best game that they have ever played before. This game is all about to play a battle game with swords. This game serves you the best gaming experience if you own an iPad. Its awesome graphics leaves everyone amazed. Of course, this game has already won a number of different awards which say all the good things of this game without having more words.
In Infinity Blade 2 you are there with a special character and you have some power to battle well. You would have special swords and here in this game you just need to complete some mysteries for getting more benefits and more power. The more you solve the mysteries the more you would have the power.
The only thing you are going to love Infinity Blade 2 is its robust and beautiful environment over the play up area. It allows you to explore the whole 3D world with dynamically change over the time of playing. You would have many more graphical environments while playing and completing the mysteries. There are some other features like to choose the best and appropriate weapon which suits you perfect.
Infinity Blade 2 allows you to interact with all the social network of yours. You can now post your own score or even play a battle to your friends who are in your social network. You will gain more power just by completing or solving each of the mysteries. This game is really has something to give you, to make feel you the best gaming experience till the time. You can't just miss this freaking awesome piece of developer.
As you might know that Infinity Blade 2 game is only for all the iOs users, and with this almost all kinds of iOS devices are compatible to play this game. iPhone 3GS, iPhone 4, iPhone 5, iPhone 4S, iPad, iPad 2, 3rd & 4th Generation iPad, iPad Mini, iPod Touch 3 (16 GB and above), or iPod Touch 4 for a single low price all these devices owner can grab this amazing game and start playing it. This game is there in iTunes and App Store just for Rs. 390. What are you waiting for? Go and grab it now.