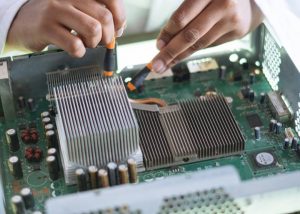 When selecting an electronics components distributor, there are several factors that you need to consider. The distribution company that you choose must not only fit within a particular category, but should also be able to meet your goals and needs in terms of service.
You should also consider the volume of component supplies that you need. For instance, if you are manufacturing large electronic devices, you will likely require huge quantities of components. However, if you are designing electronic circuits, you might only need a small number of components. It may be helpful to find more than one distributor that specializes in the components that you need.
Qualifying an electronics component distributor
There are several different factors to consider when choosing an electronics components distributor. First, you must ensure that the company is qualified to sell these components.
The IC qualification process is important to ensure that the products you buy are of high quality. However, some manufacturers may not be qualified to sell certain ICs. This can result in a lowered quality product, or a quality product that is less than optimal. Moreover, the IC qualification process may be expensive and difficult to conduct.
Another thing to consider is the type of distribution. Some distributors are specialized in providing a specific type of product. For instance, a high service distributor is able to stock a wide variety of electronic components. These distributors may have high levels of service and can ship small quantities quickly.
Alternatively, a broad-line distributor is more focused on large production runs and will tend to store product inventory during off-peak times.
To qualify an electronics components distributor, you should make sure that the quality management system has been audited by the OEM. Click here for more information. You should ensure that the company has applied stringent electrical and mechanical testing to each part. These parts must pass the qualification process in order to be sold to the public.
It is also important to find a distributor with a high level of accreditation. For instance, AS9100D is a certification that specifies quality management system requirements for the aerospace, defense, and commercial electronics markets. This certification ensures that the distributor meets the requirements of contracts.
Verifying incoming parts for authenticity
When looking for an electronics components distributor, you should verify their incoming parts for authenticity. Oftentimes, counterfeiters will cover the part number with black to hide it.
When choosing an electronics components distributor, ensure that the distributor is familiar with emerging industry standards and is active in industry associations and governing bodies. Membership in organizations such as the Electronic Components Industry Association and the Government-Industry Data Exchange Program will ensure that they are up-to-date on industry standards. Click the link: https://www.ecianow.org/ for more information about the Electronic Components Industry Association.
In addition to comparing part numbers and labels, you should also perform a visual inspection of the parts and packaging. Fake parts may have inaccurate information or date codes or lack all of the components you need. To make sure the parts are real, you can also ask for a third-party company to check the parts for you. This may add to the cost of the order, but it can help you avoid the risk of buying counterfeit parts.
When searching for an electronics components distributor, it's important to choose one that offers testing services for parts. A distributor should offer testing for counterfeit parts by using various methods, including electrical testing using the ABI electrical Sentry machine, x-ray inspection, and SEM inspection. Additionally, a distributor should be able to identify the chemicals in the component as well as whether or not it's RoHS-compliant.
Before purchasing any electronics parts, make sure they are authentic. Check the part number and check whether or not the ink stamping is right. If the part is sensitive to moisture, you should check whether or not it's packaged in a dry pack with a humidity indicator card. If not, it's best to avoid the part altogether.
Getting a manufacturer's part number
When you're looking for electronics components, it can help to have a manufacturer's part number. This is especially useful when you need to find a specialized component or part. You can easily get this information on the internet, or you can contact the electronic components distributor for more information. Often, they have all the data you need, and they can provide technical support.
In addition, many sellers have departments that deal directly with manufacturers. These departments can help you with any technical questions you may have about a particular part.
Once you have the part number, you can start looking at the seller's inventory and pricing. If you need a certain component but don't have a manufacturer's part number, you can use the seller's website to search for that specific component. This way, you'll be able to see what's available and find a seller that specializes in it.
Part numbers for electronics components usually have a sequential number at the end. This makes it easy to search for the part you need and to avoid duplicate inventory. Part numbers can also identify component type, mounting technology, and other features. Make sure that the part number is short and easy to remember so you can find the right one for your needs.
Scheduling component deliveries
When choosing an electronics parts seller, you'll want to look for one that's reliable. The last thing you need is to send a component back because it's not as described. A good seller will have detailed contact information and advisors available to help you. They should also be easy to reach and offer online chat options.
It's also important to consider life-cycle considerations, including the materials used in the manufacturing process. Cheaper materials can result in cheaper parts, while higher-quality ones may cost more. Pricing can also vary according to component lifespan, so you should always be prepared for that. Oftentimes, sellers will discount their prices in order to clear large inventories of obsolete parts.